Quick Update! 2018 Dreamhouse preview available here! 
I don't watch Barbie of Swan Lake (2003) very often.
After re-watching it to review, I realise why.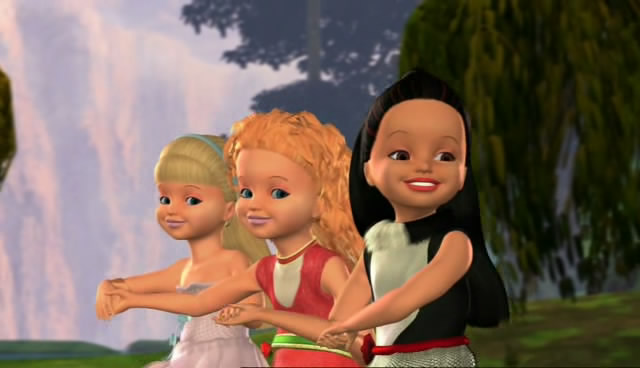 "A young girl named Odette follows a beautiful unicorn, Lila into the Enchanted Forest and picks up a magic crystal, that proclaims her destiny as savior of the enchanted forest. Odette, hampered by an overwhelming sense of insecurity, proclaims herself unfit for the job and sets out to leave the forest when the evil wizard, Rothbart turns her into a swan.
Bolstered by the powers of the magic crystal, Odette vows to defeat Rothbart. Meanwhile, love blossoms between Odette and the town's Prince Daniel and eventually, Odette finds a courage within herself that, combined with her intelligence and the true love between her and the Prince, proves powerful enough to defeat Rothbart."
The film's message is "you are braver than you think." This is demonstrated when Odette, a shy girl who is unsure of herself, is transformed into a confident young lady after her magical adventure where she was selected to save the kingdom in a Barbie in the Secret Door-fashion.
The Positives
-The classical music and ballet is nice. The familiar pieces from the traditional Swan Lake ballet in combination with the dancing is lovely. I particularly liked Cartilia's Spanish dance.
-Prince Daniel is an interesting character. I liked how we saw him struggle between his need for travel and adventure, and his loyalty to his mother and his kingdom. Daniel didn't have much dialogue in the film, but he appeared to be an all-hero type of guy. Skilled in hunting, archery and sword-fighting, Daniel is tough and tries to protect Odette at any cost. He is also nice to his mother.
-I liked how we saw how Odette's sister and father were looking for Odette after she disappeared.
-I enjoyed watching Odette's character development. At the beginning of the film, she was too afraid to go out dancing in the village. By the end of the film, she had come face-to-face with an ugly troll, escaped Rothbart's castle and saved the forest.
The Negatives
-The animation is noticeably bad. In Barbie in the Nutcracker and Barbie as Rapunzel, the early 2000s animation was not particularly noticeable or disrupting. However, Barbie of Swan Lake really has aged quite badly. I'm not sure what it is, but the animation seems clunky and "unfinished."
-If you look on the back of the DVD cover, they badly photoshopped the castle right into the background. Then, as the icing on the cake, they text-wrapped the castle so all the text goes around it. Uh, bad move, Mattel. You couldn't have just …not put the castle in?
-The dancing scene where Odette and Prince Daniel "fall in love" is really terrible. They meet for the first time, speak for .05 seconds and then Odette shows him to the lake. The elves prepare them a feast (which they don't eat), and the two dance. Afterwards, Daniel then asks Odette and her family to live in the castle with him. Hmm, okay. A little too soon, maybe?
-The final battle between Rothbart, Prince Daniel and Odette is a little ….lacklustre. Daniel and Odette try to fight against Rothbart, but he uses their magic to destroy them. The two try to save each other, but they both end up on the ground, presumed dead. But wait! Because they tried to save each other (which equals "true love," which, in turn, breaks the spell) Wow! Rothbart is destroyed just like that, with minimal effort from both parties.
-After Rothbart is killed, Daniel and Odette wake up and get married. Yep, that's literally all there is. There is no scene where Odette's parents find out where she has been all this time, or where the Fairy Queen thanks Odette for saving her kingdom, or where Odette and Daniel actually have a conversation.
-It's quite boring. The dialogue is uninteresting (even the sidekick Lila can't save this film for me!) and I found myself wishing I could switch off the television. At one point, I completely zoned out and found myself wondering "whoa, what just happened?" five minutes later.
Overall, I really didn't enjoy this film. I found it to be very boring, and the plot was not that interesting. I felt as though it was just a bunch of random scenes, all tied together in a way that didn't really make sense.
If you're looking for some classic Barbie goodness, don't stop at Barbie of Swan Lake -go watch Barbie and the Magic of Pegasus instead, it's much better.