Hi again, it's me. I bought another doll. I didn't need her at all, but I don't have any self control, apparently.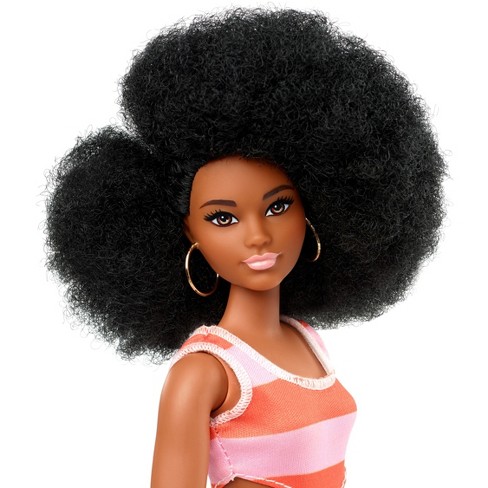 Reasons Why I Don't Need This Doll:
I'm trying to save money
I don't have enough storage space
I already have a lot of other dolls whose storylines I still need to develop
I don't have any articulated body to put her on
Her hair will probably get messy in the drawer anyway
She won't be able to wear the curvy dress when I put her on an articulated body
Reasons Why I Wanted Her:
She's really pretty and I love her hair.
I was going to buy her off Amazon, but she was $17 plus shipping so I thought I would wait until the price went down. I ended up finding her for $12 at Target instead, so I just bought her in-store. Easy!
I don't like the new packaging at all. I think it looks so childish! They had quite a nice design before 😦 So that's a shame -at least the black 'Fashionistas' part is the same. It feels like an ode* to the older dolls in the line.
I don't think they have names anymore (like Plaid on Plaid or Rainbow Bright), which makes the Fashionistas a bit hard to identify, especially when you're talking about them on Instagram or something. This one is simply called "Fashionista Curvy #105."
*I don't think I used that word correctly, but I'm sure you know what I mean!
Her hair was a bit messy when I first unboxed her.
It was a bit messy at the back as well.
She wears plain white trainers. They fit curvy and modern Skipper dolls.
I think her dress is very stylish! I would have liked it if she came with a gold bangle or something; modern Fashionistas don't come with much jewellery, do they? I can't remember the last time I bought a doll with at least a necklace.
Here's her face up close. I love the pale lip colour and the striking eyebrows! Her features are really fierce, it's one of the reasons why I first wanted to buy her.
And well, that's Fashionista #105! I haven't named her yet, but I think I will make her an older character. She doesn't look like she belongs in high school, does she? I don't think I will introduce her to the others until I can find her the right articulated body -as much as I like curvy dolls, I prefer them to be articulated! Sitting down is a must, lol.